Up to Four Axes Are Standard.
Advanced Power for High-precision Positioning Control.
Positioning for Electronic Component Manufacturing Equipment
Sheet Feeding for Vertical Pillow Packer
Pulse Output Function for Up to Four Axes.
Along with greater precision and more flexibility in multi-product manufacturing, high-speed multi-axis pulse output control responds to the increase in servo applications.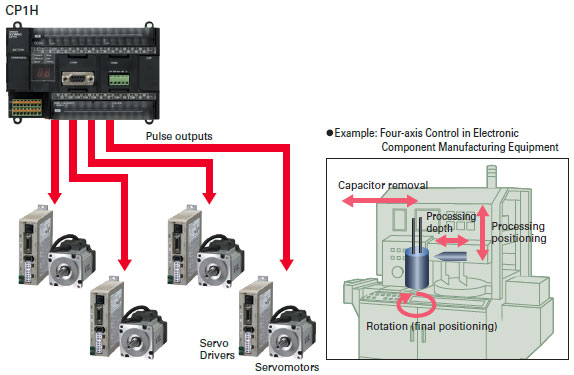 A Full Range of Functions

Applicable CPU Units and Functions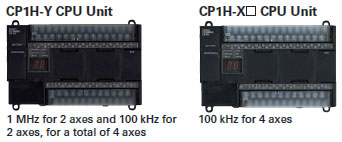 Differential Phases for Up to Four Axes Are Standard.
Easily Handles Multi-axis Control with a Single Unit.
Main-axis Control for Equipment Such as Textile Machinery or Spinning Machinery
Positioning Conveyance for Equipment Such as Building Material Manufacturing Machinery and Stone-cutting Machinery
Four-axis Counter Function (Single-phase or Differential Phases)
Multi-axis counter inputs enable calculations for inverter positioning, spindle speed control in textile manufacturing, and much more.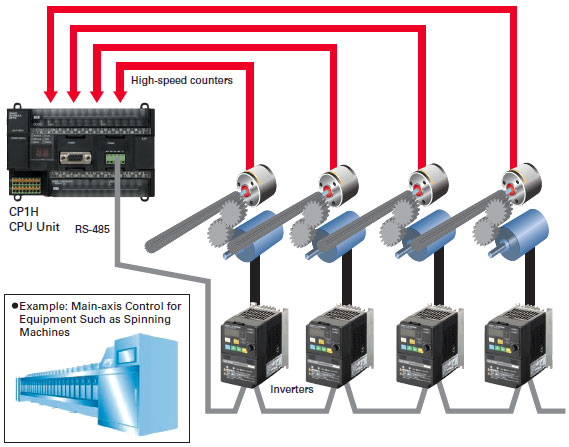 Applicable CPU Units and Functions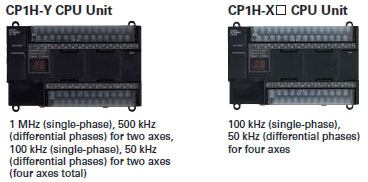 High-speed Positioning Operations Using Inverters Is Made Easy.
Machinery Such As Ceramics Conveyor Equipment
A Standard USB Port and Two Serial Ports Enable Connecti ons and Communications with a Wide Range of Components.
Up to two Option Boards can be mounted for RS-232C or RS-422A/485 communications. A peripheral USB port has been added to connect to a personal computer for a total of three communications ports, making it easy to simultaneously connect to a PT, various components (such as Inverters, Temperature Controllers, and Smart Sensors), Serial PLC Link for linking to other PLCs, and a personal computer.
Applicable CPU Units and Functions
Serial Option Board for up to two ports.

When multiple boilers are being controlled, up to 10 words/Unit of data for settings and monitoring can be exchanged using data links between up to nine CP1H, CP1L, and CJ1M CPU Units. Serial PLC Links can be used with either serial port 1 or serial port 2.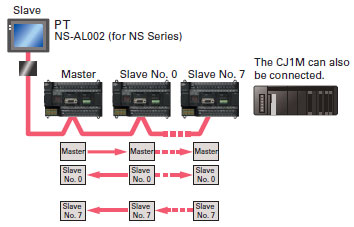 NS-series PTs can also be incorporated as slaves (1:N NT Link connections) to exchange data using the NT Links with only the master CP1H. Each is treated as one slave node.
Connecting inverter speed control is made simple using the Modbus-RTU Easy Master.
When the address, function, and data for a slave device are preset in a fixed memory area (DM Area), a message can be sent or received simply by turning ON an AR Area bit (A640.00 for port 1 or A641.00 for port 2) in the PLC.
One port can be used as an Ethernet port to perform Ethernet communications between the CP1H/CP1L and a host computer.
Connect to a general-purpose LAN simply by mounting a CP1W-CIF41 Ethernet Option Board to an option board slot on any of the CPU Units in the CP1H/CP1L except a CP1L-L10.
Perform monitoring and programming with the CX-Programmer, or communicate between a host computer and the CP1H/CP1L using Ethernet by connecting with the FINS/TCP or FINS/UDP protocols, which are supported by all OMRON PLCs.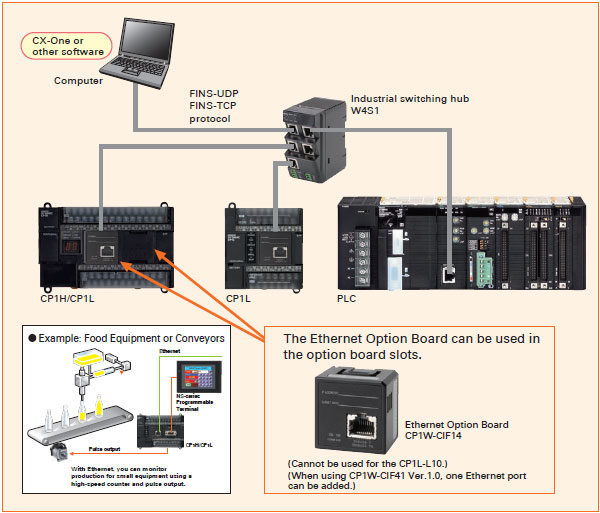 Applicable CPU Units and Functions

The Ethernet Option Board provides only one port.
Four Input Words and Two Output Words for XA CPU Units.
Analog Control and Monitoring with Only a Single CPU Unit
Surface Inspections Using Inspection Devices
Mechanisms to Prevent Careless Mistakes in Cell Production (Such as Forgetting to Tighten Screws)
Oil Pressure Control in Forming Machines
Analog Control without Using Expansion Units
Four analog inputs and two analog outputs are built in.
CP1H-XA CPU Units handle a wide range of applications with a single PLC.

Oil Pressure Control
Oil pressure control can also be handled by this CPU Unit.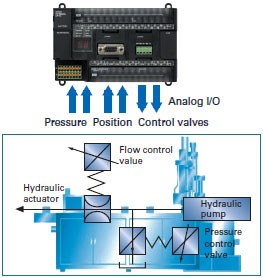 Inspection Devices
Inspection devices are required more and more to enhance quality.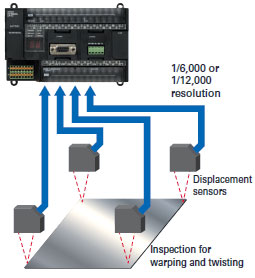 Applicable CPU Units and Functions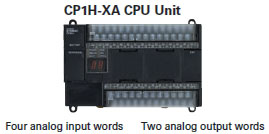 Complete with CP1W/CPM1A Analog Units.
Unit with 4 Analog Inputs
Units with 4 Analog Outputs
Units with 2 Analog Inputs and 1 Analog Output
All CP-series CPU Units Provide a USB Port as a Standard Feature.

LCD Displays and Settings
Compact Display and Setting Device Available to Mount on CPU Unit for Easy Maintenance and Startup Adjustments
Data values in the PLC can be easily monitored or changed by adding the new LCD Option Board. This enables visually checking the operation status, such as error occurrence and error details. Register in advance functions that you use often to quickly perform settings and confirm operation. Functionality can also be expanded to items not included in the CPU Unit, such as calendars and timers.

Monitoring and Changing Data Values
I/O Monitoring
All memory area values can be monitored and changed. Switch between decimal and hexadecimal or monitor 2-word hexadecimal data, such as high-speed counter values, in decimal.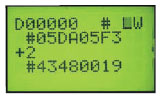 Simply press the up and down keys to quickly display up to 16 registered monitor screens.
User Monitor Settings and Messages
Up to seven fixed characters and the present value of word data can be displayed. Simply press the up and down keys from the initial screen to perform monitoring. Of course, you can also change the settings. Plus, up to 48 characters can be set in advance and then displayed when a specified bit turns ON. This makes onsite setting and confirming faster.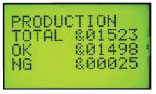 Visual Checking of Status with Display of PLC Error Details
I/O Monitoring
The backlight on the LCD screen will turn red when an error occurs to notify you of the error status. You can monitor the displayed error details and the error log.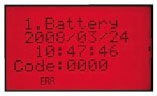 Expanded Functionality with Calendar Timers, and Other Items Not Included in the CPU Units
Variety of Additional Functions
You can use calendar timers, weekly timers, and daily timers. Sixteen of each timer type can be set.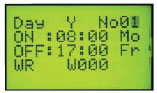 Applicable CPU Units and Functions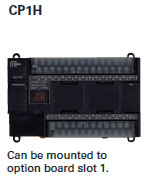 Specifications︰
CP1L-L14DR-A
CP1L-L14DR-D
CP1L-L14DT-D
CP1L-L20DR-A
CP1L-L20DR-D
CP1L-L20DT-D
CP1L-M30DR-A
CP1L-M30DR-D
CP1L-M30DT-D
CP1L-M40DR-A
CP1L-M40DR-D
CP1L-M40DT-D

Min Order︰
1
Ship Date︰
ON STOCKS
Product Image